KOOTENAI COUNTY EMS FUNDING / BILLING RATES
AMBULANCE BILLING AND TAX DOLLARS:
Why does KCEMSS charge for ambulance services and collect tax revenue from property owners in Kootenai County? Great question! We have answers.
Ambulance Billing:
Kootenai County EMS was designed to collect fees from the users of the System rather than fully taxing residents for the cost of EMS operations through property taxes. Unfortunately, Kootenai County EMS has little control over what is paid to us for the majority of our services provided. In Kootenai County in 2022, 62% of our patients were insured through Medicare, and 14% of our patients were insured though Medicaid. These government payers dictate what will be paid by them, what will be passed on to the patient as the patient's responsibility, and how much is to be written off to contractual adjustment write-offs by Kootenai County EMS. Medicare allowable (Medicare payment plus patient responsibility portion) are considerably lower than the cost of doing business. This is a national and known problem, and while Medicare is conducting a large-scale data collection study that spans over several years for ambulance services, it is unlikely any changes will be seen in the near future.
In FY2022, Kootenai County EMS wrote-off over $4.3 million dollars to contractual adjustments. The only recourse Kootenai County EMS has to offset these unpaid revenues by government insurers is to subsidize with property tax dollars, and grants.
Tax Dollars:
Kootenai County EMS receives property taxes as the "Ambulance District" in Kootenai County. You will see this on your property tax assessment that comes to you each year if you are a homeowner in Kootenai County.
In FY2022, KCEMSS received $3.3 million from taxes, which is $1 million less than what Kootenai County EMS had to write-off to contractual adjustments in the same year.
The Ambulance District tax levy in 2022 was .0000698409. That equates to just under $.07 per $1000 assessed value. A home in Kootenai County with a taxable assessed value of $500,000 would pay just under $35.00 a year to the Ambulance District. Kootenai County EMS has one of the lowest taxing levies in the State of Idaho.
Billing Rates:
Below you will see the current billing rates for ambulance service in Kootenai County.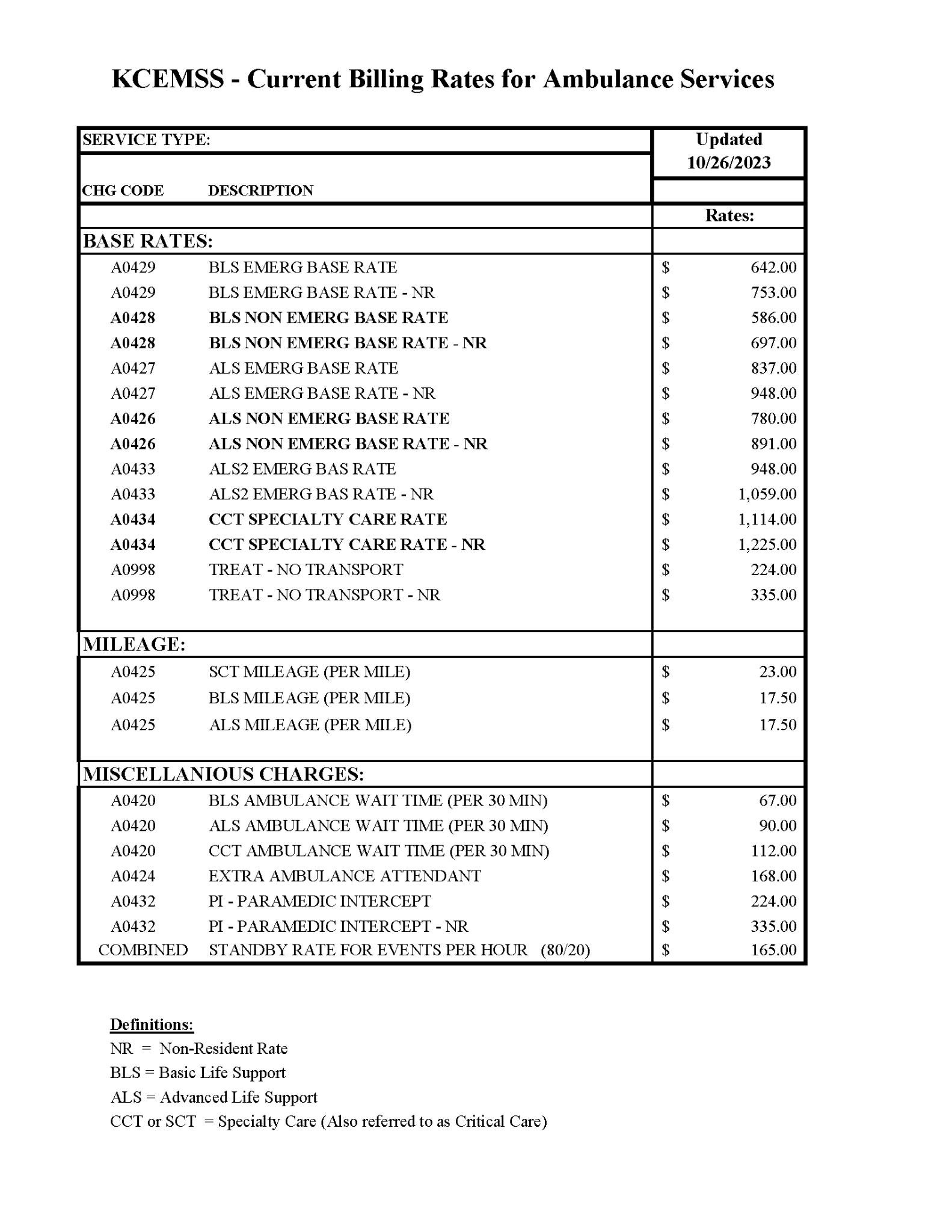 Kootenai County EMS partners with Systems Design, LLC for billing services. To access their portal please click below.